TikTok app has become a hub for viral trends, and one of the latest sensations is the "TikTok cinnamon rolls." These delectable treats have been shared across the platform, and many home cooks are trying their hand at making them.
In this article, we will break down the steps to make TikTok cinnamon rolls, from the dough to the icing, and provide tips to ensure your cinnamon rolls turn out perfectly.
Table of Contents
TikTok Cinnamon Rolls Ingredients

For the dough:
4 cups all-purpose flour
1/4 cup granulated sugar
1/4 cup unsalted butter, melted
1 cup milk, warmed
1 large egg
1 package instant yeast
1 teaspoon salt

For the filling:
1/2 cup unsalted butter, softened
1 cup brown sugar
2 tablespoons cinnamon

For the icing:
1/2 cup unsalted butter, softened
2 cups powdered sugar
2 teaspoons vanilla extract
4-6 tablespoons milk

TikTok Cinnamon Rolls with Milk Directions:
In a large mixing bowl, combine the flour, sugar, yeast, and salt. Mix well.
In a separate bowl, mix together the melted butter, egg, and warmed milk.
Slowly pour the wet ingredients into the dry ingredients, and stir until a dough forms.
Knead the dough on a floured surface for 5-10 minutes until it becomes smooth and elastic.
Place the dough into a greased bowl, cover with a towel, and let it rise in a warm, draft-free area for 1 hour.
While the dough is rising, make the filling by combining the softened butter, brown sugar, and cinnamon in a bowl. Mix well.
After the dough has risen, punch it down and roll it out on a floured surface into a large rectangle.
Spread the filling over the rolled-out dough, leaving a small border around the edges.
Roll the dough tightly from the long end into a log shape.
Cut the log into 12 even pieces and place them into a greased baking dish.
Cover the dish with a towel and let the rolls rise for another 30 minutes.
Preheat the oven to 375°F (190°C).
Bake the cinnamon rolls for 20-25 minutes until golden brown.
While the rolls are baking, make the icing by combining the softened butter, powdered sugar, vanilla extract, and milk in a bowl. Mix until smooth.
Once the rolls are finished baking, let them cool for a few minutes before drizzling the icing over the top.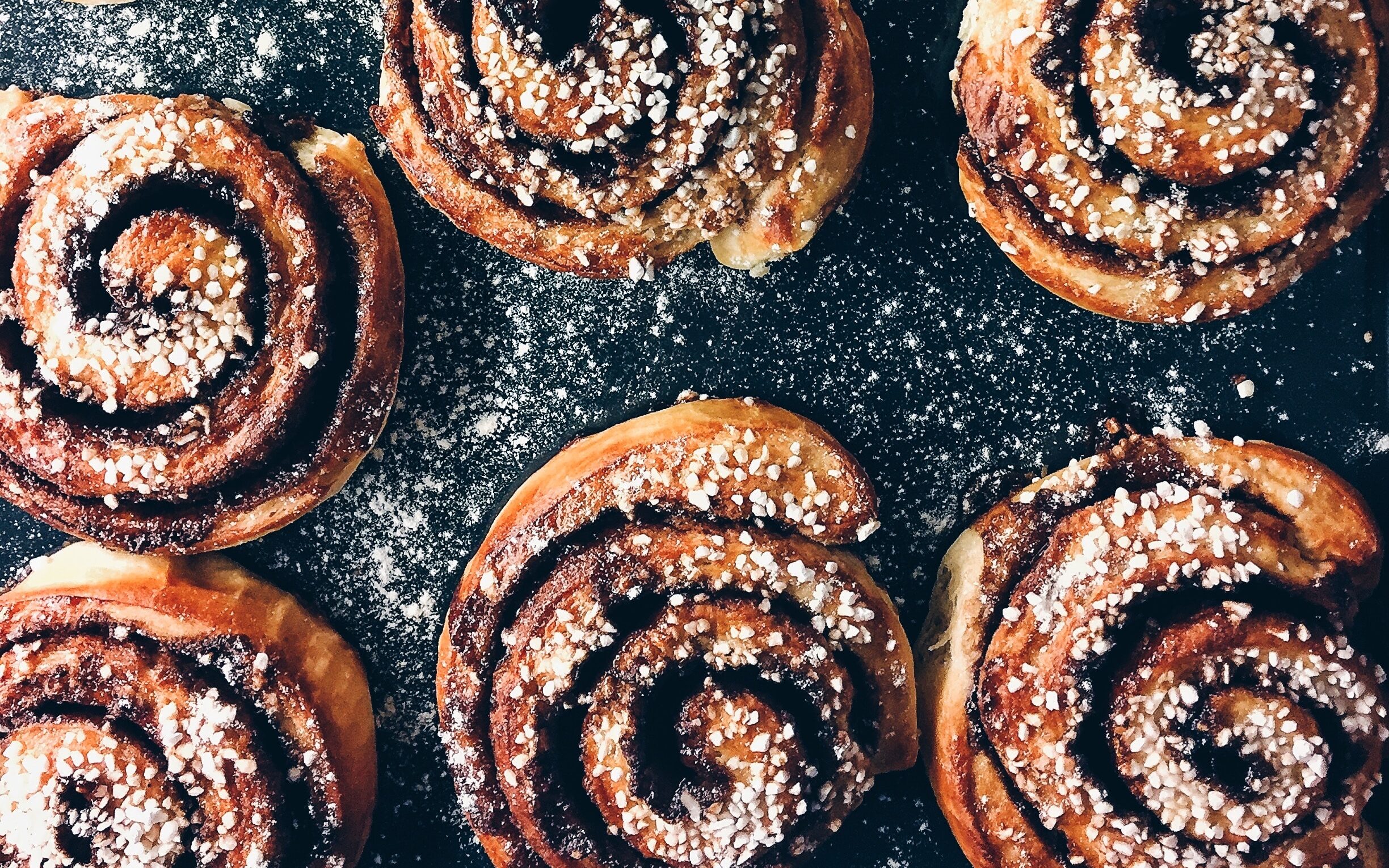 TikTok Cinnamon Rolls Hack and Tips:
Make sure the milk is warm, but not too hot, or it could kill the yeast and prevent the dough from rising.
Letting the dough rise in a warm, draft-free area is essential for it to properly rise.
When rolling out the dough, make sure it's even in thickness to ensure the rolls bake evenly.
To make sure the cinnamon filling stays in place, you can brush the rolled-out dough with a little bit of water before spreading the filling.
Don't overbake the cinnamon rolls, or they'll become dry and tough. Keep an eye on them while they're in the oven.
Conclusion On How to Make TikTok Cinnamon Rolls 2023 :
TikTok cinnamon rolls have become a viral sensation, and for good reason. They're delicious, fluffy, and the perfect treat to share with family and friends. With a little bit of patience and attention to detail, you can make your own cinnamon rolls that are sure to impress. Follow these steps and tips, and you'll be on your way to enjoying your own batch of TikTok cinnamon rolls in no time.
To read more posts such as (How to Make TikTok Cinnamon Rolls 2023), subscribe to our website and give your suggestions in the comments box below, thank you for reading For more Click Here.
What does pouring heavy cream on cinnamon rolls do?
Boring heavy cream on cinnamon rolls doesn't do anything right as it adds plain flavor and texture.
What store bought cinnamon rolls taste like Cinnabon?
It's difficult to determine what "cinnamon Rolls" tastes like as I'm not sure what that is. However, Cinnabon's cinnamon rolls are known for their sweet, cinnamon flavor and fluffy texture.
Can you use milk instead of heavy cream in cinnamon rolls?
Yes, milk can be used instead of heavy cream in cinnamon rolls, but the texture and flavor may be slightly different due to the difference in fat content.
Why do you add heavy cream to cinnamon rolls?
Heavy cream is added to cinnamon rolls to make them richer and more tender. It also adds a slightly tangy flavor that complements the sweetness of the cinnamon filling.
What is the meaning of cinnamon roll girl?
meaning for "cinnamon roll girl" is related to TikTok trend by those girls. Describe a girl who enjoys cinnamon rolls.
What does cinnamon roll mean on TikTok?
On TikTok, "cinnamon roll" is often used as a term to describe someone who is sweet, innocent, and pure-hearted. It is a term of endearment and often used to compliment someone's personality.
What is a cinnamon roll trope?
The "cinnamon roll" trope is a characterization technique in fiction where a character is depicted as being pure-hearted, kind, and innocent. It is often used to create a likable and endearing character who can provide a contrast to more morally ambiguous or flawed characters.
What are those cinnamon rolls called?
There are many different types of cinnamon rolls, including traditional cinnamon rolls, cinnamon twists, and cinnamon roll muffins, among others.
Keywords :-
tiktok cinnamon rolls air fryer,tik tok cinnamon rolls and heavy cream,tik tok cinnamon roll apple pie,the country cook tiktok cinnamon rolls,tiktok cinnamon rolls half and half,tiktok cinnamon rolls with almond milk,tiktok cinnamon rolls make ahead,tiktok cinnamon roll in a mug,tiktok cinnamon rolls heavy cream and brown sugar,tiktok cinnamon rolls with heavy cream and pecans,
tiktok cinnamon rolls brown sugar,tiktok cinnamon roll bites,cinnamon roll bake tiktok,tik tok cinnamon rolls heavy cream brown sugar,tiktok cinnamon roll hack with brown sugar,best tiktok cinnamon rolls recipe,tik tok bunny cinnamon rolls,cinnamon rolls on blackstone tiktok,tiktok cinnamon rolls recipe,cinnamon bun roll recipe,tiktok cinnamon rolls calories,
tiktok cinnamon rolls crock pot,tiktok cinnamon rolls condensed milk,tiktok cinnamon rolls coffee creamer,tik tok cinnamon rolls cream,tik tok cinnamon rolls cook time,tiktok cinnamon roll casserole,tik tok cinnamon roll cake,tiktok cinnamon roll challenge,tiktok cinnamon roll dump cake,tiktok cinnamon roll pumpkin dump cake,do you cover tiktok cinnamon rolls,dog cinnamon roll recipe,tiktok cinnamon rolls evaporated milk,easy tiktok cinnamon rolls,
tiktok cinnamon roll recipe,tiktok cinnamon rolls frozen,tiktok cinnamon rolls from scratch,tiktok cinnamon rolls frosting,tiktok cinnamon roll apple pie filling,tiktok famous cinnamon rolls,cinnamon rolls from tiktok,tiktok cinnamon rolls with apple pie filling in crock pot,tik tok cinnamon rolls with frozen rolls,tik tok cinnamon rolls with cream cheese frosting,tiktok grands cinnamon rolls,cinnamon rolls size,how to make a tiktok from camera roll,tiktok cinnamon rolls hack,
tik tok cinnamon rolls heavy whipping cream,tiktok cinnamon roll hack with milk,tik tok cinnamon roll hack recipe,tiktok cinnamon roll hack video,tiktok cinnamon roll hack with apple pie filling,tiktok cinnamon rolls without heavy cream,tiktok cinnamon rolls icing,tiktok cinnamon rolls ingredients,tiktok cinnamon rolls in air fryer,tiktok cinnamon rolls in waffle maker,
cinnamon rolls in a mug tiktok,cinnamon roll cheat,the kitchn tiktok cinnamon rolls,tiktok cinnamon rolls milk,tik tok cinnamon rolls modern honey,tik tok cinnamon rolls with condensed milk,how to make tiktok cinnamon rolls,nutella cinnamon rolls tiktok,tiktok cinnamon rolls one can,tiktok cinnamon rolls original video,cinnamon rolls on tiktok,tiktok cinnamon rolls with milk instead of heavy cream,
oreo cinnamon rolls tiktok,cinnamon rolls seen on tiktok,how to open a roll of cinnamon rolls,tiktok cinnamon rolls pumpkin,tiktok cinnamon roll peach cobbler,tiktok cinnamon roll pancakes,tiktok cinnamon rolls with pecans,tiktok cinnamon rolls with pillsbury,tiktok apple cinnamon rolls crock pot,tiktok cinnamon rolls rhodes,tiktok cinnamon rolls recipe with brown sugar,
tiktok cinnamon rolls review,tiktok cinnamon roll recipe with half and half,tiktok cinnamon roll recipe with heavy whipping cream,raw cinnamon roll recipe,tiktok cinnamon rolls small rolls,tiktok cinnamon rolls song,tiktok cinnamon rolls with sweetened condensed milk,tik tok cinnamon rolls brown sugar,tiktok cinnamon rolls with brown sugar and butter,tiktok strawberry cinnamon rolls,
tiktok pumpkin spice cinnamon rolls,tiktok cinnamon roll trend,tik tok cinnamon roll trick,tiktok tortilla cinnamon rolls,how to reheat tiktok cinnamon rolls,tiktok cinnamon rolls video,viral tiktok cinnamon rolls,tiktok cinnamon rolls with heavy cream,tiktok cinnamon rolls with heavy cream and brown sugar,tiktok cinnamon rolls with rhodes rolls,
tiktok cinnamon rolls with apple pie filling and heavy cream,tiktok cinnamon rolls with heavy whipping cream,tiktok cinnamon rolls with brown sugar,tiktok cinnamon rolls without cream cheese,tiktok cinnamon rolls 1 can,tik tok cinnamon rolls one can,tiktok cinnamon rolls 5 count,5 minute cinnamon roll recipe,tiktok cinnamon rolls 8 count,tiktok cookie policy